Following on from our post of travel words that ought to already exist, here's some new tramping (the kiwi word for hiking) vocab to inspire you to get into the outdoors.
Tentation: The irresistible urge to purchase a new tent after seeing someone else's palatial abode
"He found himself at the outdoor store. Once again giving in to tentation"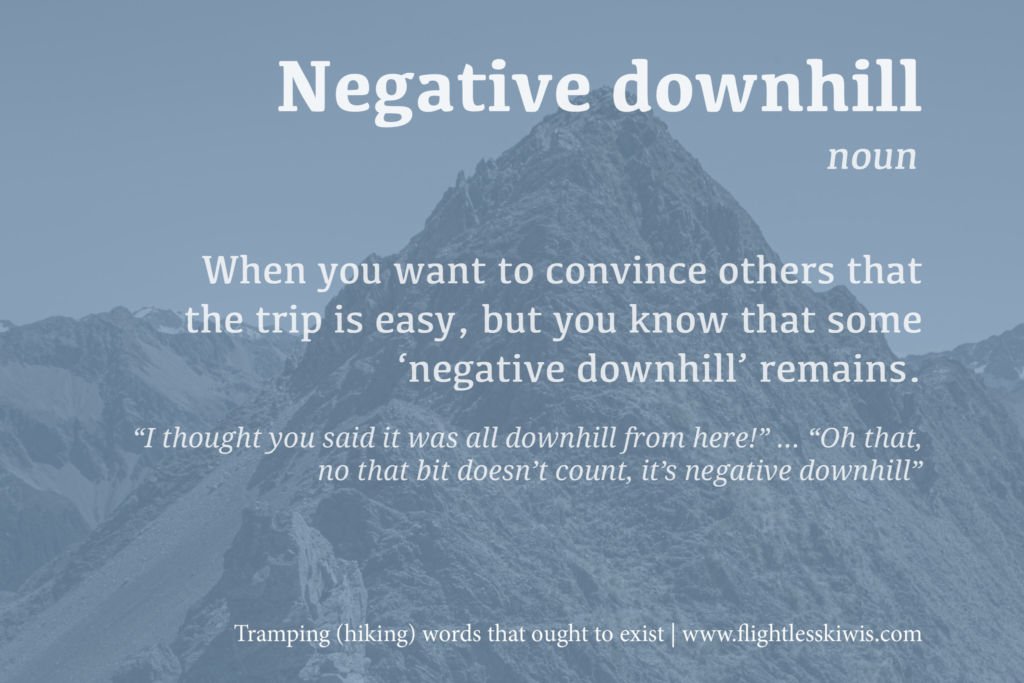 Negative downhill: When you want to convince others that the trip is easy, but you know that some 'negative downhill' remains.
"I thought you said it was all downhill from here!" … "Oh that, no that bit doesn't count, it's negative downhill"
(This one is thanks to Barry, for his liberal use of 'negative downhill' and John for actually coining the term…)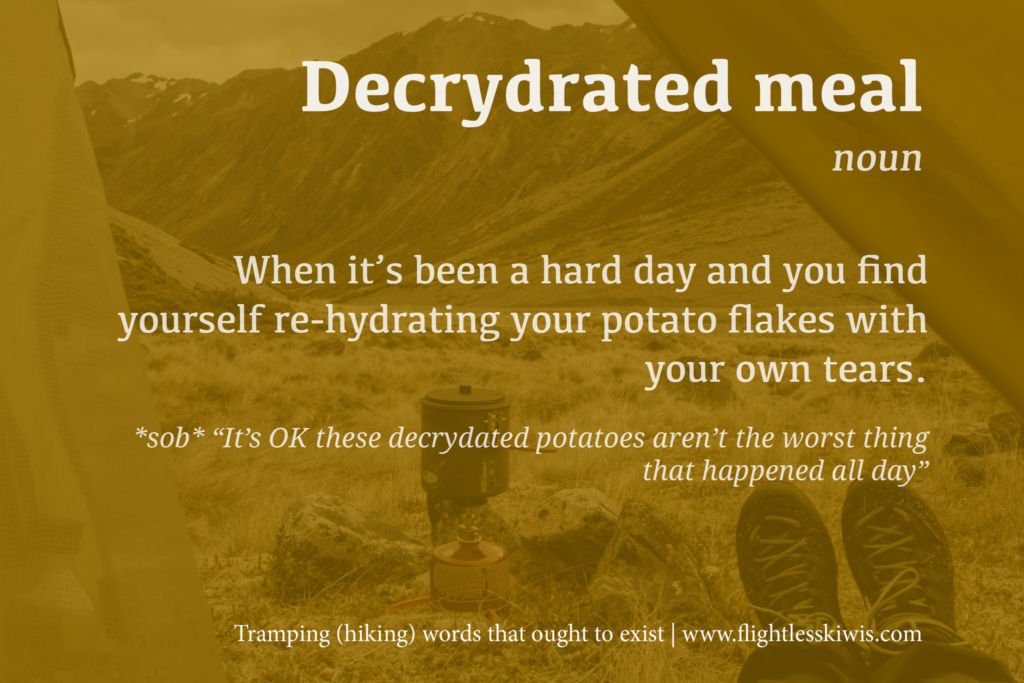 Decrydrated meal: When it's been a hard day and you find yourself re-hydrating your potato flakes with your own tears.
*sob* "It's OK, these decrydrated potatoes aren't the worst thing that happened all day"
Weeping bag: After a bleak decrydrated meal, you can curl up and sob yourself to sleep in your weeping bag.
"Oh, he's been sobbing in his weeping bag for the last half hour, I think traversing the second pass was too much."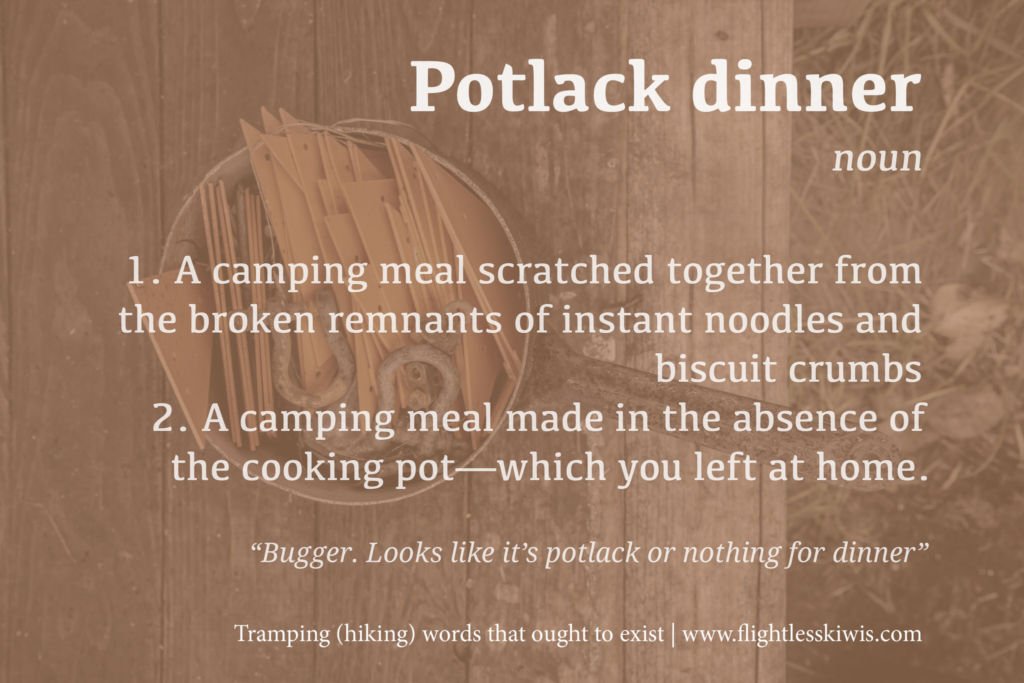 Potlack dinner:
A camping meal scratched together from the broken remnants of instant noodles and biscuit crumbs
A camping meal made in the absence of the cooking pot that is still sitting at home
"Bugger. Looks like it's potlack or nothing for dinner"
Back-packrat: That one person in your hiking party who seems to have packed two of everything…
"You're such a back-packrat, I can't believe you brought slippers and a dressing gown"
Facilitrees: Whe one is in the wilderness and one must go, its' still nice to have some privacy.
"Excuse me, I need to pop over there and use the facilitrees"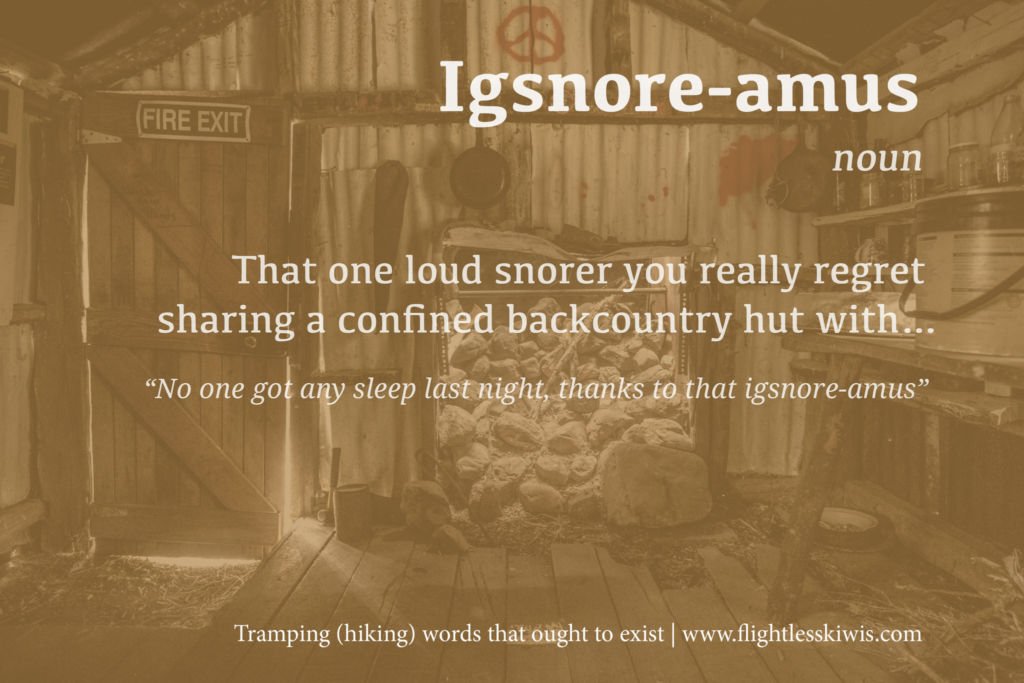 Igsnore-amus: That one loud snorer you really regret sharing a confined backcountry hut with.
"No one got any sleep last night, thanks to that igsnore-amus"
Navstimation: When navigating, near enough is close enough.
"I think it's this way, but I'd class that as a navstimation"
Misnavstimation: Sometimes, when navigating, near enough is not close enough.
"I think that was a misnavstimation, we're on the wrong ridge"
Blisterectomy: You never want to have to perform this complex field surgery, but sometimes it's the only way to stay on your feet.
"About 25km in, she had to perform an emergency blisterectomy in order to continue the journey"
Light spending: Partaking in a bit of light spending can be more expensive than it sounds. Sometimes you have to spend a few hundred dollars to shave a mere hundred grams off your pack weight.
"After some light spending in the weekend Sally could no longer afford to go tramping, but if she had, her bag would have been 50 grams lighter"
Camplication: When the party size exceeds the available flat area for pitching tents comfortably.
"Hmm, this is a real camplication"
Tramping midnight: Can be about 7pm, but subject to strong seasonal variation.
*Panam Overlanders, see also Baja Midnight…
"Yawn! Time to turn in… oh, look at that, it's tramping midnight"
Suss-pension bridge: Some bridges appear to be of questionable structural integrity.
"I wouldn't trust that suss-pension bridge"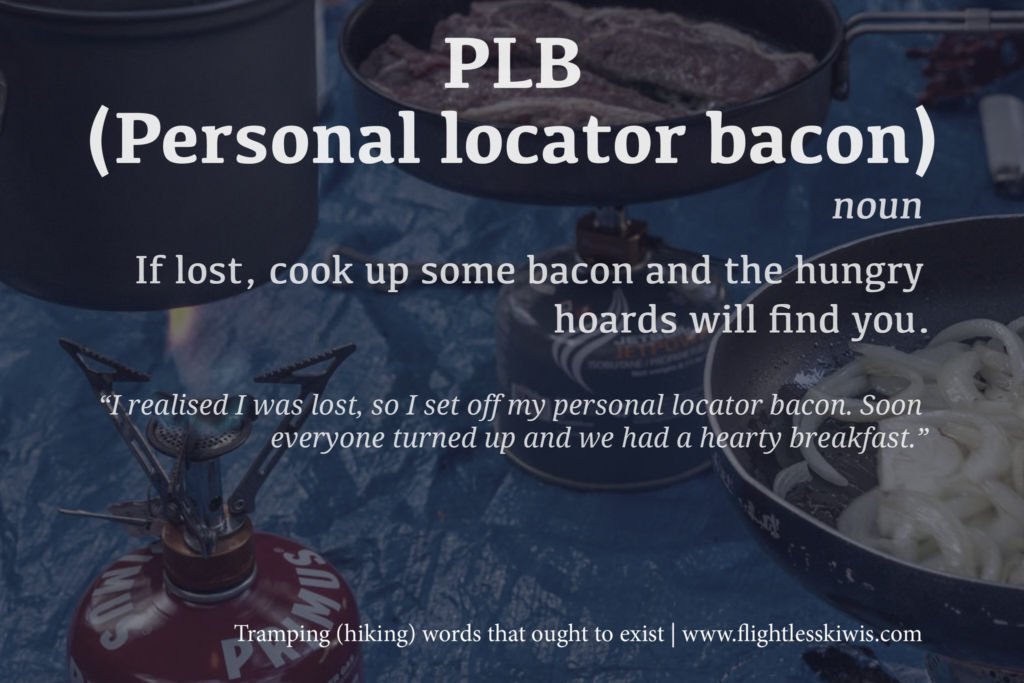 PLB (Personal locator bacon): If lost, cook up some bacon and the hungry hoards will find you.
"I realised I was lost, so I set off my personal locator bacon. Soon everyone turned up and we had a hearty breakfast"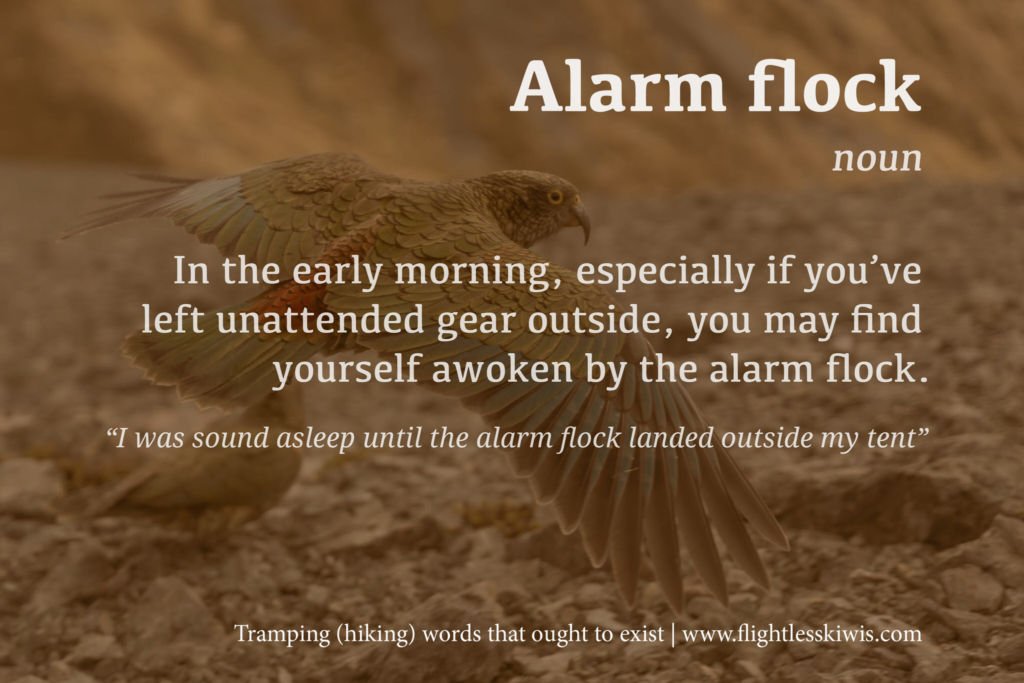 Alarm flock: In the early morning, especially if you've left unattended gear outside, you may find yourself awoken by the alarm flock.
"I was sound asleep until the alarm flock landed outside my tent"
Terraincheck: When you see where you are supposed to be walking and realise it doesn't look inviting. Something to leave for another day.
"Uh. On second thought, I'm going to take a terraincheck on this walk"
---
Did we miss some useful tramping/hiking words that should've made the cut for this list? Let us know in the comments below.
---