The puns are inevitable. As are the sandflies. What in tarn-ation am I talking about? A visit to Tarn Hut in the Puketeraki Forest Conservation Area in the Lees Valley. An overnight trip conveniently close to Christchurch, but far enough away that you forget that it is.
This was one of the last few trips I went on before that whole COVID debacle took hold and temporarily put a hold on our alpine fun.
I'm now pleased to report that with lockdowns over, we're back out adventuring. Here's a couple of write-ups about some recent post-lockdown adventures.
Now, back to the adventure at hand. Tarn Hut.
A few friends felt we were overdue for one of our laid back 'cuisine trips'. This entails bringing plenty of delicious food in heavy packs. The goal being a delicious shared pot luck dinner somewhere scenic.
(When I say 'overdue' we actually do this reasonably regularly, but it seemed like time to have another go. )
I'd been a bit slack about overnight trips in the months leading up to this, doing more running and day trips. Things that didn't involve heavy packs, so I was glad this was going to be an easy walk.
With a cooler bag packed to the brim with ingredients for a delicious antipasto platter/cheese board tucked into my pack, I was looking forward to a relaxing weekend.
We began the trundle along a flat, wide four wheel drive track in the hot sun. Perfect weather, easy going, it was shaping up to be an idlylic day.
The plan was to stop at Youngman Stream hut for lunch and then carry on uphill to Tarn Hut to camp (and enjoy our dinner).
The flat 4WD track soon took a detour from the meandering river and we started to zig-zag up over the hill. It was at about this point that the grumblings of mutiny started to happen. Lugging unnecessarily heavy packs uphill in the hot sun was less 'relaxing cuisine trip' and more a 'sweat drenched trudge' than many of the group had planned.
…and this detour was before we reached the actual advertised uphill section to Tarn Hut. (A 700m climb over Lilburne hill, the topo map warned us).
There was talk of abandoning our plans and stopping early at Youngman stream hut. This was after all a pot luck dinner with some walking, not a wilderness adventure! It would be the perfect weather for a sunny stop by the river. Although some of us were still keen to get to the idyllic tarn hut. With our shared pot-luck meal—it would have to be a group decision.
We agreed to stop long enough to brew some hot tea—at least.
Located in the warm sunshine in a grassy clearing by the river it did indeed make for an appealing stop.
However, it took surprisingly little convincing to get the whole group moving again.
Why?
The reason was actually a pretty small one.
Sandflies.
So. Many. Sandflies.
It would have been quite relaxing if we'd planned on hiding inside the hut or our tents. However, the angry swarms took the shine off the idea of sitting around outside in the sun enjoying our food. Walking up the remaining hill now sounded quite pleasant—at least when you are moving they don't bite. You just have to maintain a leisurely 'faster-than-a-sandfly' walking pace.
Also, this meant we'd stick with our original plan of having a short walk back to the cars when the weather turned the next day.
After a nice hot cup of tea (at least a litre for some of the more tea-fuelled members of the party). Everyone was very keen to start climbing up and away from the sandfly swarms by the hut.
It wasn't long at all before we reached the top of the climb and emerged in the wide tussock tops surrounding Lilburn Hill.

From there, it was a short wander along and a quick descent to the small tarn we were aiming to camp at (although some planned to stay in the hut).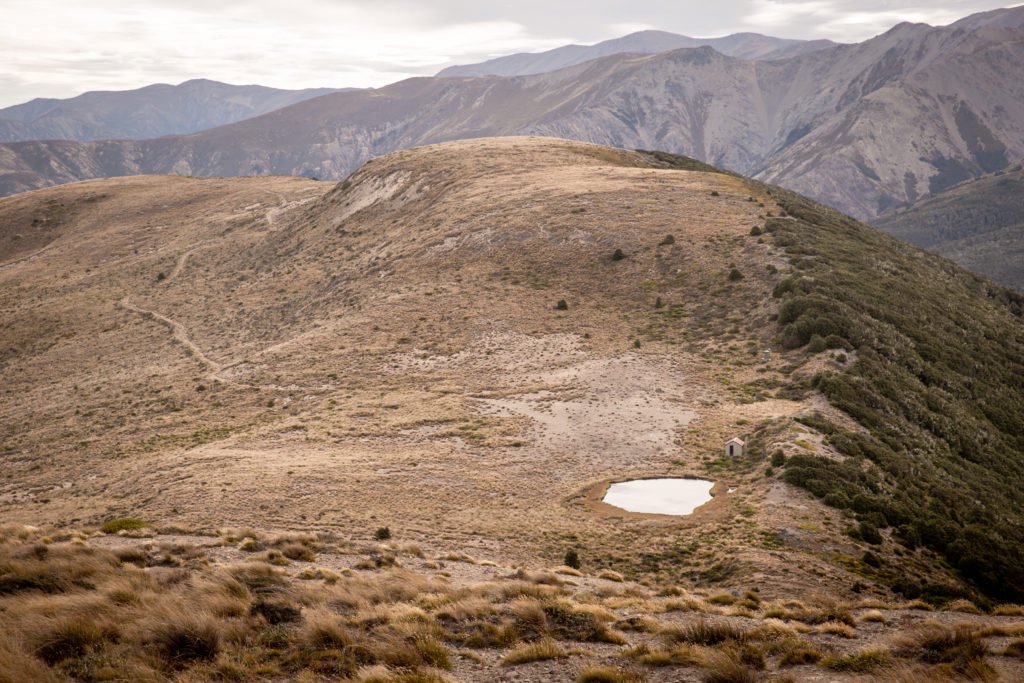 With the tents set up we sat round and enjoyed a delicious shared dinner, with entrée, mains and dessert. Not a sandfly in sight.
The next morning we knew we would be waking up to the start of the bad weather. This knowledge was offset by the knowledge that we'd also be waking up to a batch of hot pancakes, the last stage of our luxury weekend of gluttony. (This particular dish was inspired by the name of the neighbouring mountain range.)
I say 'waking up' for those in the hut, it wasn't so much a change of state, but a continuation of a sleepless night. One spent attempting to herd the resident mice that seemed determined to keep the hut-dwellers awake.
Despite the steadily increasing wind, the tent dwellers had fared much better. Taking the risk of packing up a tent in the rain had paid off.
Every one was pleased to be greeted by dramatic sunrise views, followed by pancakes and fresh blueberries.
Also. Most importantly. No sandflies.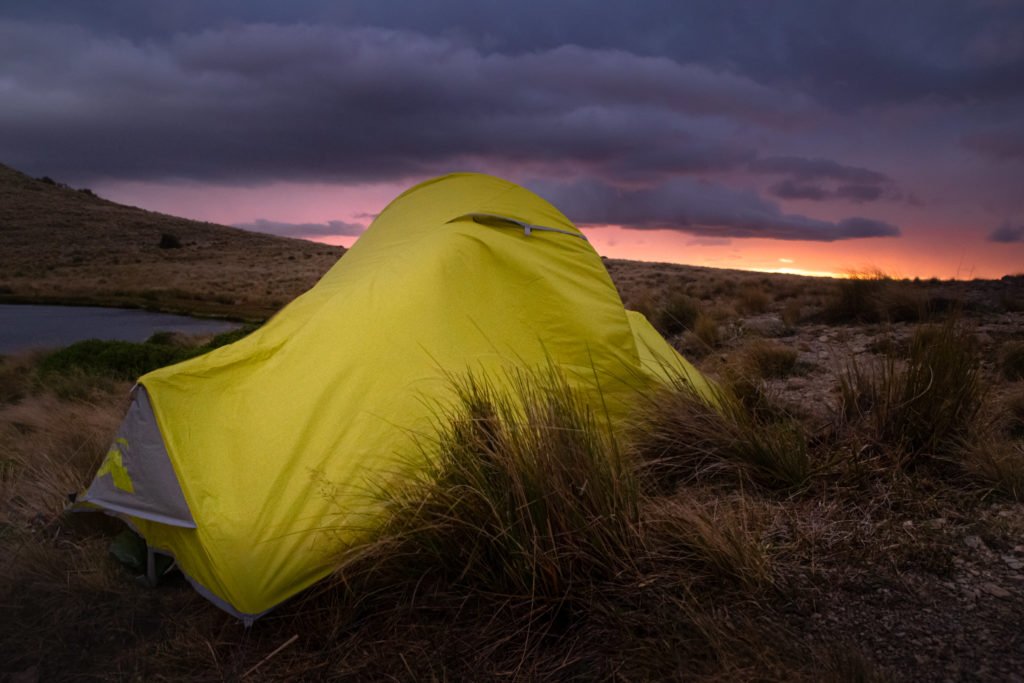 We packed up our tents and began the easy downhill trip back to the cars under darkening skies. Arriving in Oxford in time for more food… lunch at the café.
Another successful weekend 'adventure'. (It's still an adventure, even if there's pancakes, right?)
---
Tarn hut is an easily accessible weekend trip from Christchurch. If you wanted to take the more relaxed approach, you could stay at both Tarn and Youngman Stream huts, making it a three day trip. (Also, replacing luxurious meals with a bit of dehy to ease the burden on the uphill sections could definitely simplify matters.
The circuit we followed meant we covered about 16km and 1200m of ascent of day one and day two was an easy 10km nearly all downhill.
Tarn hut would be spectacular in winter, so I hope to go back there when there is a bit of a dusting of snow.
---